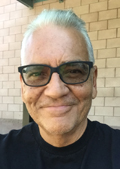 Fraire had his first short story published in 1973 and a year later his first non-fiction article. In 1974 he wrote his first novel: "Latino Jesse" an autobiographical fiction novel about growing up in a steel mill town, a Mexican-American and being neither Mexican nor American.
In 1975 he began working as a journalist and in 1986 accepted the position as Editor of The Windsor Times, in Windsor, California. During this time he had his first book published: "Windsor the Birth of a City," a non-fiction record of how Windsor went from an unincorporated area to cityhood. This book was followed by: "I Remember Healdsburg," a collection of historic memories from residents of Healdsburg, Ca. and "Daddy I Need to Go Potty" a humorous look at the life of a dad with two young daughters, ages 2 and 6 written while his daughters were 2 and 6.
After resigning his editor's job Fraire began working full-time as a graphic designer but continued to write and wrote two plays, with his brother John: "Who Will Dance With Pancho Villa" and "Cesar Died Today" both successfully produced in New York City. They also wrote the story and screenplay, "Stories of the Seasons" as part of the Kalamazoo Valley Museum Mexican American History Project. This was a planetarium presentation.
RECENTLY COMPLETED AND WORKS IN PROGRESS:
Fraire's most recent book, titled "Mill Rats", is a plot-driven suspense novel about steel mill workers caught in the web of the Russian mob.
"Back Porch", is a play which deals with the aging issues of the neighborhood Mexican-American grocer all revealed on the back porch of his apartment above the store.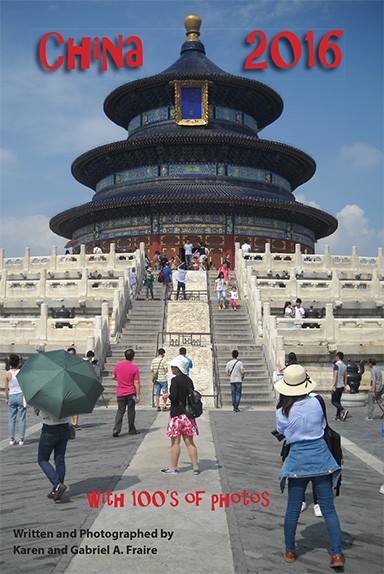 With one hand still in the journalism Fraire is the copy-editor for the African-American owned weekly community newspaper, "The Carolina Peacemaker," produced in Greensboro North Carolina.
Fraire also writes two monthly newspaper columns. One is titled "Off the Top of My Head" has a focus on current life in America with topics both serious and humorous. These columns appear in the Sonoma West newspaper chain (the Healdsburg Tribune, The Windsor Times, Sonoma West Times and News, and the Cloverdale Reveille all produced in Sonoma, County California). The other column, "Daddy I Need..." appears in the Upbeat Times, a monthly publication with only good news. These columns feature stories of a dad and his two young daughters (totally autobiographical). This newspaper is produced in Santa Rosa, California.
In 2013 Fraire was selected as the 2014-15 Healdsburg Literary Laureate.
In 2016 Gabriel, with his wife Karen, embarked on a trip to China. They did not go with a tour and neither speaks Chinese. The trip is captured in a book they produced titled: "China 2016" which also contains hundreds of their photos.